The California tour of my group The Cubs is coming up right away in July. You can check the calendar page for information. I especially want to mention our appearance at the Bird and Beckett bookstore in San Francisco. This is at 653 Chenery St. and we play July 6 from 7:30 to 9:30. The bookstore is a new venue for us and the success depends on having a good turnout. I hope to encourage all our friends and fans in the bay area to come to this performance in a very intimate setting. I may read a few poems too.
The Cubs have also been invited to appear at the Lacey jazz festival next year and I look forward to that as well.
I have been absorbing the new Twin Peaks series. The episodes play like an Earl Hines piano solo, daring and leaping. In one episode I saw Beau Sample and Alex Hall from the Fat Babies playing in a band in the mythical world of Twin Peaks.
Also, on the Tuesday after the Cubs tour I will be playing solo at Pier 23.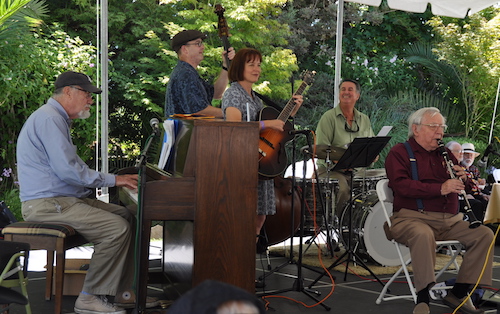 Ray Skjelbred and The Cubs performing at The Cline Jazz And Wine Festival last year.
---
If you would like to read past newsletters click here.
---