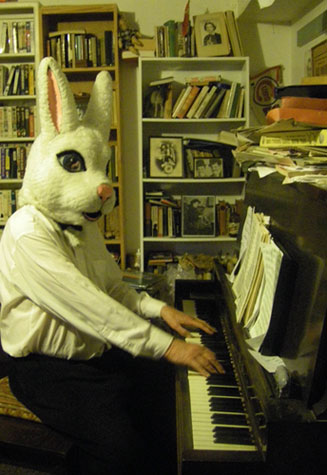 Well, November will be busy. It is my birthday month and election month. Let's keep fighting for fair play, equality and intelligence. Voices of darkness are loud throughout the land.

I will be at the West Coast Ragtime Festival Nov. 20-22 but note that I will play at Pier 23 in San Francisco the Tuesday before. Also I head to San Diego on Thanksgiving to play with Bob Schulz, my Cubs band and Dawn Lambeth and Marc Caparone. Schedules can change but if you peek at the current schedule you will see that Dawn has the first set of regular programming that begins the festival on Friday and the Cubs play immediately after that in the same room. That is exciting. There are many festivals and special events coming up in 2016 but I am not listing them yet. Some details and official business have to be worked out. But I look forward to it. One special thing for sure is that my Cubs band will have a California tour in July. I was worried it might not happen this year. We will be at Borrone's in Menlo Park July 8, Cline Festival in Sonoma July 9 and Napa Jazz Club July 10. There may be more jobs attached, don't know yet, but we are definitely there. Next month I will add other festival and special job activity.
The Yeti Chasers will play Nov. 4 at the Royal Room from 7-9:30. I hate that our schedule has bounced around so much, but jobs were in conflict for November.

Now some fast thoughts about things that make my soul be what it is: fresh asparagus, dogs, Jean Arthur, the Field Museum, Don Redman, kingfishers, prairie grasses, Erroll Garner, Randolph Scott, oatmeal cookies, ducks,Willa Cather, Rod Cless and Charles Coburn.
November ended with delightful music at the San Diego jazz festival. I played a full schedule with Bob Schulz and two sets each with my Cubs band and with Marc Caparone and Dawn Lambeth. That trio was a first,and Marc is going to look for more opportunities. The sound is a little different than the Cubs---smaller, quieter, but devoted to swing, beauty and surprise. Most of all I like the good company of my friends there. No doubt there will be a variety of youtubes from Rae Ann and Michael Steinman that will reveal some of this music.

The trip home was quite an adventure. My Sunday night plane was delayed about an hour and a half by bad Seattle weather. Then we took off and flew about two hours, enough to be close to Seattle. Then the pilot came on with an announcement that the weather had worsened and we we flying BACK TO SAN DIEGO.I felt a bit lost In San Diego I wandered outside and a shuttle driver asked me where I wanted to go. I told him that I didn't know and he took me to a Motel 6. I felt like I was living a scene from the Marx Brothers Night at the Opera. The brothers, stowaways on a ship, disguise themselves as famous aviators to escape the law. When called upon to explain their transatlantic flying exploits, Chico says the first time they tried to fly they got halfway and ran out gas and had to return. The second time they got within sight of land and ran out of gas and had to go home. Then they made it the third time. I had the feeling we were almost there when we had to turn back.

We are aiming toward the end of the year. I wish I could change some things in the world---get rid of opinions formed by fear, hatred formed by ignorance and loud voices, and violence formed by a gun culture. Maybe I can't but I did the following poem recently and maybe some surprising things can change the world after all.
REFLEXOLOGY

If you press hard against a certain place
on the tip of your thumb,
your brain will thank you and feel refreshed.
If you apply pressure
to the fourth finger of either hand,
your nerves and tension will slow down.
And if you build a campfire
on the Olympic peninsula,
Republicans in Omaha will suddenly
feel compelled to return overdue library books.
If you lean your forehead against the side of a cow,
drug prices will be reduced.
If you photograph a Komodo dragon,
all the leaf blowers in the world will stop working.
And at night, if bladder problems keep you awake,
just press down on the heel of your palm
and you will sleep the good sleep
of no discomfort or pain,
which will also lower the temperature
at the North Pole.
I just had a little poem accepted by a little poetry magazine. Lilliput is really small and a great pleasure to read and be part of. The poem this time is:

ORWELL'S SHOOTING AN ELEPHANT

The smallest bug in the world
just landed on page 53
of Kim Addonizio's
"Starlight at the Lucifer."
And because I was reading
I flicked him away
with my little finger
just as I saw
he made a shadow.

It is that time of year when we look ahead or behind at our own lives or the whole world. We use all our senses but most of all we use language. Memory is our greatest force and we use it to absorb all directions at once. The current political campaign made me think back to working at the Fairmont Hotel in San Francisco, where many customers appeared to be very wealthy. I clearly remember a sense of privilege that went with money. Rich people sometimes expect to get whatever they want because they assume it is theirs for the taking. If you disagree with them you are wrong because you are not on the same level. This attitude is what I see at the top of the Republican list.I also see language turned into jingles and vagueness. It is a most alarming turn of events and the lowest level of political behavior I have ever seen in America.
And that made me think of It's a Wonderful Life, when, during the depression, Jimmy Stewart tries to stop people from taking half the value of their money from Mr. Potter. The people thought he was doing them a favor, but Stewart (George Bailey) says, "Don't you see? Potter's not selling. Potter's buying." He was amassing more wealth by taking advantage of them. It was manipulation. It was a kind of bullying, just as I see it today in politics.

Oh, and there is music. One special note in February is the Bob Schulz appearance at the Fresno Jazz Festival. Otherwise, I continue on with the Yeti Chasers at the Royal Room and with Dave Holo at Salty's.
I regret that I must mention the passing of another fine musician, Ham Carson, a veteran hot jazz and swing player who has been part of the music scene for a long time. I didn't play with Ham too much, but we did record together along with cornetist Jim Goodwin on the LP Taking a Chance that John Ochs produced. Ham also played in the Great Excelsior Jazz Band, my first group many years ago, though Ham was there during the time after I had moved to California. For many years he led a group at the New Orleans Creole Restaurant in Pioneer Square in Seattle and, I believe his last public performance was a sitting in appearance with the Yeti chasers at the Royal Room a couple of months ago. He was a skilled and expressive player who had a lot of Chicago jazz in his.soul. He will be missed. It seemed he would always be here.

The Yeti Chasers have now been playing at the Royal Room on a monthly basis for the last year. Starting in February we shift to the third Saturday of month and, as usual, the early shift, from 5 to 7:30.Doors open at 4. The Royal Room presents a wide range of music and I will be taking part in a piano series there, I believe during March.
Bob Schulz and the Frisco band will be at the Fresno festival, starting Feb. 11, a Thursday, pre-festival night, then on Friday and Saturday. We do not play on Sunday.
In March I begin what I hope will be some steady work at Capitol Cider on East Pike St. in Seattle. This is Jacob Zimmerman's group and we are joined by bassist Matt Weiner. Jacob is a rising star in many directions in jazz and I am always happy to work with him. For now we are scheduled for the first Sundays in March, April and May.

John Ochs and I are in an early talking stage about making a film where I talk about Chicago style piano, show some of the ways of playing Chicago style and demonstrate how it all came about. Focus would be on Earl Hines, Joe Sullivan and Jess Stacy.

Jess Stacy
February turned out to be quite a bit different than I expected. Bob Pelland, the fine pianist and leader of the Grand Dominion Jazz Band had some health issues that were severe enough that I filled in for him at the Fresno festival, and then the recently completed Seaside festival. I have always felt very connected to this group, originally when it had my first music friends, Bob Jackson and Mike Duffy, and now with good friends Clint Baker, Jeff Hamilton, Gerry Green. Bill Dixon, Jim Armstrong and Mike Fay. On the Seaside job, Jeff Hamilton also had some health issues and Clint's son Riley took over on drums. Riley is 15 and knows how to play. And knowing how, means not just skill, but listening, swinging and good taste. I enjoyed both festivals and felt very at home with a group that weaves together a sense of knowledge, swing and passion. Bob and Jeff are both recovering and I hope they are back at it soon.

March 16 is a special piano night at the Royal Room. I will be one of about a dozen piano players who will play a couple of songs each. Should be very interesting. Three nights later, on the 19th, the Yeti Chasers will appear there.
I am hoping the word gets out for Jacob Zimmerman at Capitol Cider. Our first night there is March 6 from 5:30 to 8. Jacob, Matt Weiner on bass and me.
Baseball is coming. And I am ready.
I am writing this the day after the Oscar ceremony where black performers were not considered for awards and it seems a good moment for me to consider some of my favorite actors of color.
Juano Hernandez, who created passionate and intense characters in Intruder in the Dust and The Pawnbroker. Great face and voice. Great belief in his character.
Sabu, who really was an Indian boy who tended elephants. His sweet charm and sense of humor dominate his early films, especially The Thief of Baghdad. Gary Farmer, a native American who gives his passion in many films, including Pow Wow Highway and Smoke Signals. Nina Mae McKinney, who appeared in many early black music films, but who also played prominent roles in features Hallelujah and Pinky. David Gulpilil, one of my favorite actors, an Australian aboriginal who notably appeared in Walkabout and very recently in Charlie's Country, both films where his sweet and kind nature and love of the land is pitted against racist policies and attitudes. Those two films are over 40 years apart, but it is the same guy, young and old, believing the good things about people and culture.


Nina Mae McKinney
I can see eagles every day, the temperature is starting to get into the comfort zone, baseball is beginning and I get a bit of satisfaction from new poems and songs. I have always loved turning band material into piano solo stuff. It seems like an endless world of untapped exploration. Recently I have been fooling around with Jimmie Noone's El Rado Scuffle and the Mielke's Bearcats song Blue Guaiac Blues.

Just a few days ago I reread Joseph Conrad's End of the Tether, a wonderful tale, full of tumbling irony at the end, and the memorable line, "You begin to see things when you are going blind." There are many kinds of blindness. About 37 to 40 percent of the voting public seems blind to me right now, but I have a poem for it.
THE ART OF POLITICS Selling exploding cigars to one man--- selling matches that won't stay lit to another.
I guess I have not mentioned jazz much. The steady jobs go on and my next festival is Olympia in June. My favorite animals? Dog, cow, duck, wolf, pig. And they all make music that I love.
In early May we are off to Grand Haven, Michigan to play an anniversary party for Jack and Judy Clapp. They just want piano solo and I am happy to oblige for some really nice people.
Around Seattle I am playing more and more with Jacob Zimmerman,a wonderful reed player and a dedicated student of jazz history and good taste! May 1 we play at Capitol Cider, then a special one night May 3 at the Royal Room with New York guests Emily Asher, trombone; Mike Davis, trumpet; Jay Lepley, drums. And Matt Weiner will be on bass. The trio, Jacob Zimmerman and his Pals will be recording at Jack Straw studio in June and I look forward to that as well.

June brings two special events. On June 18 I will be playing my Dolceola as part of the Lake Forest Park secret garden tour. I set up in a garden and play as people walk by. Also, the Lacey Jazz Festival comes at the end of the month. I will be with Bob Schulz and that is good. It has been a few years since he has had his band there. I will also be happy to see Joep Peeters, a long time Dutch friend of American jazz musicians. He set up my work in The Netherlands two years ago. I hope we get to play together.

I also can't help but mention the Chicago Cubs, who seem to be winning almost all of their games. I kind of like that.

Dolceola
The Yeti Chasers will not be playing at the Royal Room during the summer, though we are expected back in September. They have something else in mind, but we will survive. June 19 will also be the last Puget Sound Traditional Jazz Society meeting until next September. I will be there with the New Orleans Quintet with Jake Powel, Dave Holo, Steve Wright, George Goldsberry and Matt Weiner.
The May trip to Michigan was wonderful. With one night in Chicago I finally got to see Jane Addams' Hull House, one of the most remarkable creations in American history. Name any social cause or a fight for the rights of people, especially the poor and immigrants, and she was there. In her bedroom the museum has a wonderful display with her Nobel Prize on a pedestal next to J. Edgar Hoover's FBI file on her during the time he tried to catch her as an agitator and troublemaker.There was no end to her depth, intelligence and commitment to decent lives for all. I was very moved.
The Lacey festival is at the end of June. I will be glad to play with Bob Schulz again and also have a chance to catch the fine Fat Babies band from Chicago. Then in July the Cubs have their delightful tour of the bay area.

One more big thing. Our dear friend, beautiful trombone player Bob Mielke will be 90 in July!!!

Ray & Bob Mielke
I happily look forward to the northern California tour with my band The Cubs. You can find more information on the calendar page,but we will be at Rossmoor, Thursday, July 7, the next day at Borrone's in Menlo Park, Saturday at the Cline Winery festival and later in the day an augmented group appearing as the New Berkeley Rhythm at the Bootlegger's Ball in San francisco, and finally at the Napa Traditional Jazz Society in Yountville on Sunday. We are Kim Cusack, clarinet; Katie Cavera, guitar; Clint Baker, bass; Jeff Hamilton, drums; and I will play piano. At the Bootlegger's Ball, a swing dance, Clint will switch to trombone, Marty Eggers will play bass and Marc Caparone will join us on trumpet.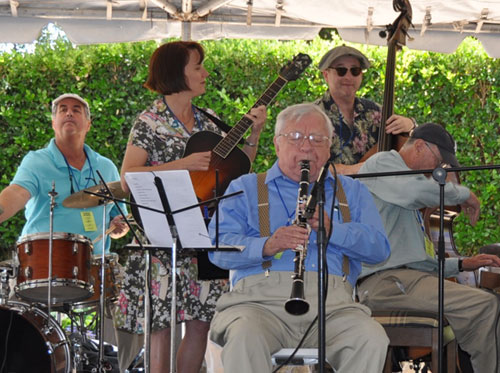 Ray Skjelbred & His Cubs(l-r) Jeff Hamilton, Katie Cavera, Kim Cusack, Clint Baker, and Ray Skjelbred
Sir Charles Thompson has died. He was much loved by many musicians and listeners, yet he traveled through jazz history in a way that was as understated as his playing style. No one ever used open space between the notes the way he did. He was a great inspiration to me and I am glad to report that he was 98 when he died.
I recently did a studio recording/radio program with Jacob Zimmerman and Matt Weiner. It was really lovely. Jacob is a major talent on alto and clarinet and I want the world to know him. Fortunately we have an increasing number of jobs coming up down the road.
The Lacey festival was fun, but laughing with Jeff Hamilton and Marc Caparone was the best part!
The California tour of my little band called the Cubs was a happy and successful time. A lot of hard work, planning and late hour driving were part of it, but it was satisfying to bring the sound of very real and intimate Chicago jazz out into the world. My thanks to Kim, Katie, Clint, Jeff, Rae Ann, John Plut and all the venue and festival people for making it work.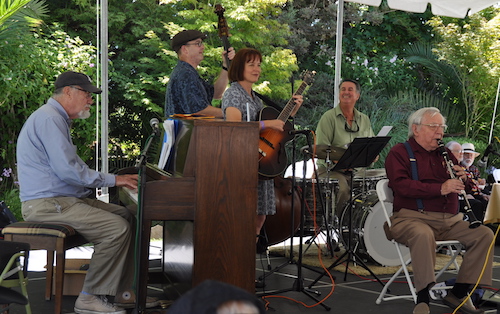 Ray Skjelbred & His Cubs(l-r) Ray Skjelbred, Clint Baker, Katie Cavera, Jeff Hamilton, and Kim Cusack
photo by Barbara Sully
I will be back in California in August for Pier 23 and solo playing at the Sutter Creek Ragtime Festival, including a duet set with Marty Eggers. Labor Day weekend the Cubs will be together again at the Hot Jazz Jubilee in Sacramento.
Here is a recent poem that will be published in the Summer edition of Off the Coast from Maine.
WHAT HAVE YOU DONE
Bits of tan fur pressed into the black road.
Cedar Waxwings eat all the cotoneaster berries
in one afternoon.
Our greatest achievement is that strangers
can sometimes sit quietly next to each other
in public places.
As I write this, the Labor Day Hot Jazz Jubilee is a few days away and the Cubs have a full seven sets. Katie and Clint will also be seen in other musical settings as well.
September 17-18 Bob Schulz will be visiting Seattle and we will be playing Saturday at the Royal Room and Sunday at the Ballard Elks for the Traditional Jazz Society.
My favorite gig is one I can walk to! The Yeti Chasers play at Third Place Commons in Lake Forest Park September 30.
I have just learned new information about the San Diego Festival. I was always scheduled to play with the Dawn Lambeth trio. It turns out that she, Marc Caparone and I will play three sets, I have three solo sets and two with the Cubs. First I heard of it was a few days ago.
My old friend Bob West has died..I have known him from 1962 and he was a dedicated jazz and blues man. More than that he was generous with his life and time. He gave freely to others. Bob bought my old houseboat on Lake Union and I always stayed with him when I came up from California to play here. I had seen him often recently, and although I knew he was gravely ill, it still stunned me.
I don't know how far ahead a person can plan a life, but I have just marked on my calendar all the dates for the baseball playoffs. I notice that the seventh game of the world series is scheduled on my birthday. I hope that means something good.
I will be working on a new piano recording in October, leaning toward late 20's Armstrong-Hines things, plus some surprises. It is always a test of something, not necessarily skill. Will the music be accurate? Will it really be me? Those two questions often battle each other.
I am picking up more swing dances with Jacob Zimmerman over the next few months. That is always a good thing.
Looking farther ahead than usual, I can note some festivals down the road. I will be with Bob Schulz at Fresno, and Seaside in February and in Madison in April. I just heard from Tom Jacobus and the Evergreen band has been invited to Lacey. So I will be there too.
Baseball is overwhelming me right now. I want to enjoy it all, but I can't relax with it. Well, I love the Chicago Cubs and that is the whole story.
In another month we will elect a new president. I think it is important to consider things wisely, and after two seconds of thinking,and observing, I knew all I needed to know. Vote and protect us from ignorance, hatred and crudeness.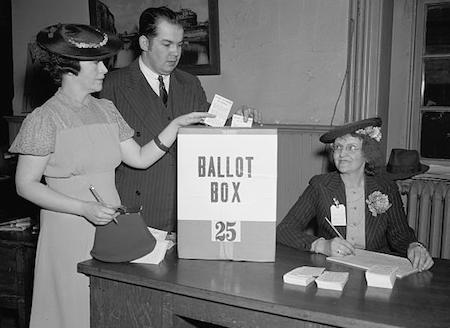 On November 2, 2016 I became 76 years old----and the Chicago Cubs won the world series.
~ December 2016 ~
---
The recently completed San Diego Festival was a delight on many fronts. I had some solo sets, two wonderful sets with The Cubs and Marc Caparone sitting in for Kim Cusack, and three delightful sets with the Dawn Lambeth trio. She sings exactly as I want someone to sing; lovely jazz without trying hard to prove that it is jazz and a sweet no show business stage presence. Dawn chooses rich, lyrical songs that I love to play. And Marc is magnificent on horn. His version of Dear Old Southland was just stunning. It is also looking like we may all be back to do it next year. I hope.
I will have a new CD out in a few days. I can never be sure of these things, but there is a quiet element that emerged on this. I wasn't looking for it, but it took me along for the ride.
There will be new events for the calendar and festival lists for next year and I have some other things that I will probably know more about a little later. One delightful thing just came up. In addition to my work with Bob Schulz at the Seaside Festival, they have asked me to assemble a trio which will include Kim Cusack and Marc Caparone. What could be nicer.
And the Cubs are still world champions.
---
~ January 2017 ~
---
It is almost the end of the year as I write, a time when people look back on the year, but I would like to look back on many years during this time period. I played a New Year gig at the Bull Valley Inn in Port Costa for seven or eight years, and four years at the Fairmont with Turk Murphy. There was an interesting time a few years back when I played with a band for an NPR New Year's Eve production of Wait, Wait, Don't Tell Me. Most memorable of all was my New Year's Eve with Earl Hines. I played solo and then he followed with a big band. That was 1982, not long before he died.
| | |
| --- | --- |
| So here is an interesting plot. A billionaire with many oil interest connections does everything he can to manipulate the enthusiasm of "the people" so that they will elect him as president, a "friend" of the people. But he really is power hungry and wants to feed his ego. His plan is to become an autocratic ruler and not care about "the people" once he is elected. Does this plot sound familiar? Yes, it is the story from the 1941 film Meet John Doe. It also seems to resemble something else going on in the world. | |
Not much new on the music front but the Yeti Chasers have been asked to move to the second Friday of the month at the Royal Room. We will try it in January and see how it goes. Friday, with terrible rush hour traffic, is a much tougher time than Saturday, our usual day. May 17 I will take part in an evening of Earl Hines and Mary Lou Williams music at the Royal Room. That sounds good.
Let us all stay energized. We are going into dark times in America. Be kind, fair and wise.
I was very happy to take part in the great march on January 21. Very early in the morning I took the bus downtown. There were only about six people at my stop and by the next stop there were about 200 and most had to be turned away. The spirit of the day was strong, gentle and inspiring. A Native American group with drumming lead the people and I was happy to be part of it and know that the best of America was alive. A layer of hatred, fear and ignorance are always just under the surface and I am glad to see that the people really do exist.and will continue to fight for human rights and decent behavior. One my heroes,poet William Stafford, said he was a "citizen of the world" and rightly so. I hope to stay with all of this energy for the next four years.
And there is jazz. February is very busy. I will be at two festivals (Fresno,Seaside) with Bob Schulz, and Marc Caparone, Kim Cusack and I have a couple of sets at Seaside as well. The weekend of Feb. 17-19 I have six jobs, five with Jacob Zimmerman and I am thrilled that two of my favorite musicians -Meredith Axelrod and Josh Roberts- will be joining us.
Check Michael Steinman's Jazz Lives blog to catch Dear Old Southland a duet that Marc and I did last Thanksgiving in San Diego. Marc's playing is powerful and inspiring jazz at its highest level.
And now for a delicious meal of blueberries and pickled herring.
My favorite national holiday is coming up---March 12, the start of Daylight Saving Time. Nevertheless, my lovely calendar to benefit Children's Hospital has it listed as savingS time, and there are plenty of news announcers (so dishonest) who will also call it that. Perhaps the concept of a savings account is responsible, but the idea is that you are "saving time." That day is the start of Daylight Saving Time.
February was very busy with Fresno and Seaside festivals and a very full weekend of work with Jacob Zimmerman. Much good music but now I need to talk with my dog more.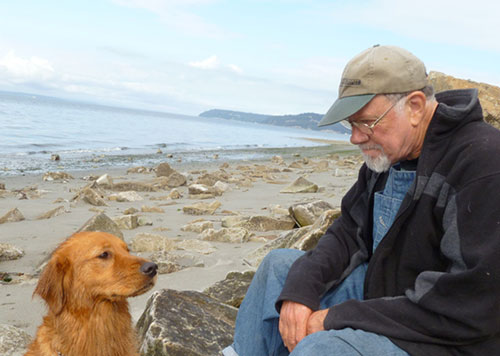 I am the son of an immigrant and proud of that. And you can't be too careful. The former Norwegian Prime Minister was recently stopped at the border. Is the current direction of America wicked? Or just silly?
It has been a long, gray time of life. I hope April brings some needed light. The Yeti Chasers play for the Bellingham Traditional Jazz Society April 1, and Jim Armstrong will be joining us. April 2 the Chicago Cubs begin their new season.
Some other interesting things are going on. I will join Matt Weiner and group at the Edmunds Center for the Arts April 6 to play music before a silent film feature. Dave Loomis will have a band doing Lu Watters arrangements at the Royal Room April 20, And at the end of the month I am off to Wisconsin Rapids and Madison to play concerts with Bob Schulz.
A very interesting evening will be May 17 when I will play piano solo at the Royal Room on a night dedicated to Earl Hines and Mary Lou Williams.
There are some interesting new youtubes. Michael Steinman has some of my solo playing and with Marc Caparone and we have some delightful things with Meredith Axelrod, Josh Roberts, Jacob Zimmerman and Matt Weiner.
I am writing this just before flying to Madison, WI for a festival with Bob Schulz. This is one of my favorite places and I always try to absorb the surroundings as much as I can. When I am in the presence of cows I know I am in a good world, large and mild.
May 17 is Norwegian Independence day but I will also be playing the music of Earl Hines and Mary Lou Williams at the Royal Room. They were both explorers who traveled through jazz history, they had many true selves inside themselves and they were both great heroes to me.
The Lacey festival comes at the end of June. In addition to playing with the Evergreen band, I will be on one solo set and one set with Dawn Lambeth and Marc Caparone. That's a pleasure. Next month I will outline the July tour for my little band called the Cubs. We have a week of work in the bay area.
The Dawn Lambeth Trio plays "I've Got a Feeling I'm Falling" on November 25, 2016 at the 37th Annual San Diego Jazz Fest and Swing Extravaganza.
In July my Cubs band has a solid tour in California. You can look on the calendar page to see where and when. The music is really wonderful and it is always an adventure to piece together the gigs and the people from different parts of the country. We will have the usual lineup of Kim Cusack, Katie Cavera, Clint Baker, Jeff Hamilton and me.
Dave Holo has some health problems right now and we anticipate his recovery and return to Salty's later in the summer. For now, Matt Weiner and I are figuring out the next couple of months. We are fortunate that Jacob Zimmerrman can join us for most of it.
I recently played a weekend of Benny Goodman sextet stuff with Josh Roberts wonderful group. And I discovered Marina Albero, a magnificent musician who mostly plays piano and hammered dulcimer, but with us played vibes and she really swings. Good stuff.
Lacey jazz festival is coming up at the end of June. I will be there with the Evergreen band and one set with Dawn Lambeth and Marc Caparone. And a piano set with Jeff Barnhart and Conal Fowkes.
Ray Skjelbred and his Cubs (Featuring Dawn Lambeth & Marc Caparone) play "Wherever There's Love" on November 25, 2016 at the 37th Annual San Diego Jazz Fest and Swing Extravaganza.
The California tour of my group The Cubs is coming up right away in July. You can check the calendar page for information. I especially want to mention our appearance at the Bird and Beckett bookstore in San Francisco. This is at 653 Chenery St. and we play July 6 from 7:30 to 9:30. The bookstore is a new venue for us and the success depends on having a good turnout. I hope to encourage all our friends and fans in the bay area to come to this performance in a very intimate setting. I may read a few poems too.
The Cubs have also been invited to appear at the Lacey jazz festival next year and I look forward to that as well.
I have been absorbing the new Twin Peaks series. The episodes play like an Earl Hines piano solo, daring and leaping. In one episode I saw Beau Sample and Alex Hall from the Fat Babies playing in a band in the mythical world of Twin Peaks.
Also, on the Tuesday after the Cubs tour I will be playing solo at Pier 23.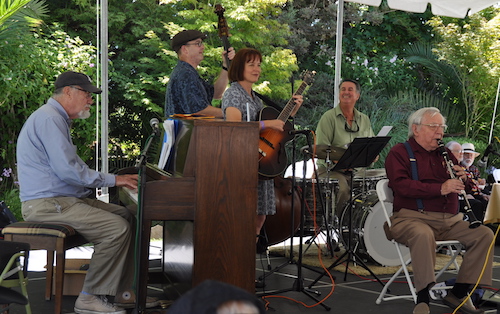 Ray Skjelbred and The Cubs performing at The Cline Jazz And Wine Festival last year.
To read the News from 2008 - 20014 CLICK HERE.